Best Free Stock Charts Websites
Hey there! I wanted to make a list of the most useful, helpful and best free stock charts websites. I will rank these from worst to best. Of course, this ranking is based on my own personal preference and on how much I use them myself. Please note that some of these sites have a premium paid version. The current review will only include the free portion of the websites, which, to be honest, is more than sufficient for most traders. I hope this will allow you to take your technical analysis to the next level. Let's get started:
Now, just because this website is the worst in my ranking, that doesn't mean that it is bad. It is actually quite good. However, I find myself using this site less and less. There are other websites that fit my preferences and needs better. With this being said, TradingView is a popular trading and charting website that is worth checking out and seeing how you like it.
TradingView offers a lot of data at no cost. In fact, the platform provides a robust and powerful stock charting platform that includes many indicators and graphing options. The website offers some of the best free stock charts with a modern look and an endless amount of technical analysis tools. This platform is one of the most customizable for charting stocks. You can even access indicators that are created by other users, a unique idea that I haven't seen anywhere else. Moreover, I didn't yet mention that this trading website offers a social component although I have not used it that much, but it is still a cool addition. Furthermore, TradingView's charting is the most interactive of all the websites in this review, something that you might actually appreciate.
Unfortunately, the charts can get messy because of the customizability options. In my opinion, the platform and indicators themselves could be "cleaner". Personally, I need stock charts to be as neat as possible to avoid confusion and bad technical analysis. I also came across some glitches and server issues on several occasions.
Finviz is popular for stock screening but also brings up a chart when you look up a quote. What is interesting is that the website automatically does some light technical analysis for you. You literally don't have to do anything other than look up a stock. In addition, you will get a slew of other information about the stock on the same page. I usually use this website to make sure that I didn't miss anything obvious when charting. It's good for double checking, and I like the fact that the charts are neat.
The big downside with this platform is that, as far as charting goes, you don't get much for free. In truth, the only things you can control are chart and frame types. However, as I said, it provides a nice and quick snapshot of a stock. Don't forget that the website also provides screening that is mostly free.
Overall, Finviz is a good website with no real issues except for the fact that the technical analysis is limited unless you're a paid subscriber.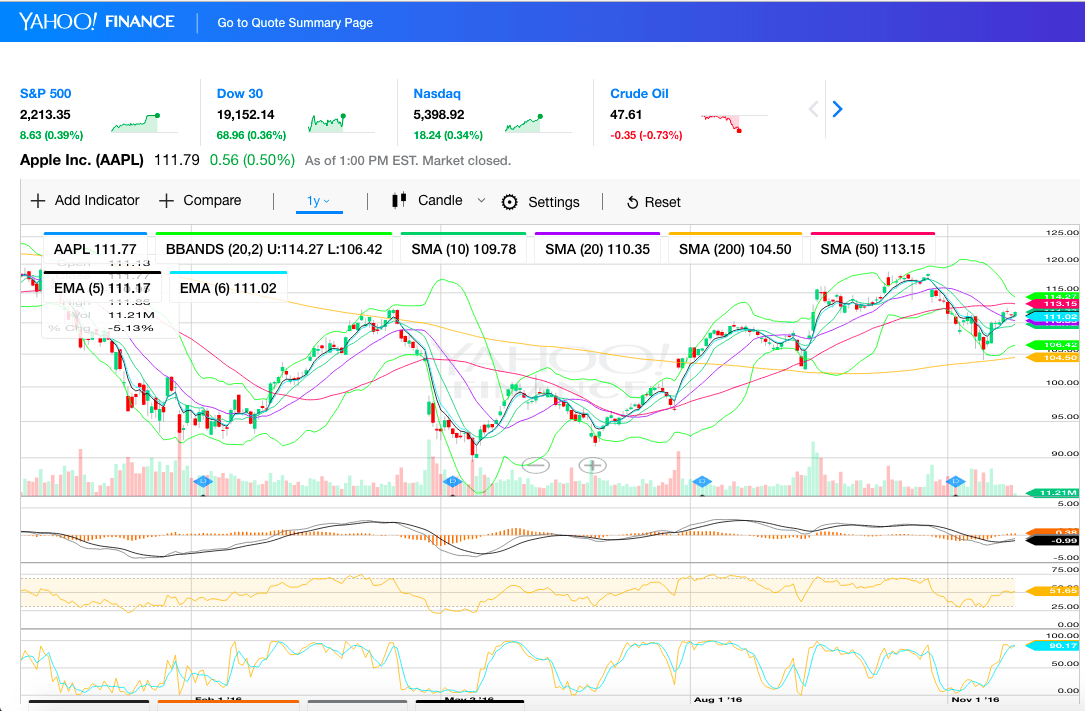 There is a good chance that you are already using Yahoo Finance. Don't underestimate it!
I should mention that the website had a big update not too long ago, which brought in some good and some bad features. Yahoo Finance offers charts and virtually anything else you would want to know about a stock. The information is updated as regularly as possible.
I know the chart above is a bit messy, and that is partly because of the fact that I use multiple moving averages. Nevertheless, since their big update, the charts, indicators, and everything in between became unaesthetic and frankly ugly. It is actually pretty hideous to look at and I wouldn't be surprised if it annoyed many people prompting them to go to competitors instead. I really don't know how they messed up this badly. Besides that, the platform is now full of bugs and glitches. Many things don't load properly. Despite these downfalls, the website is fully functional; you just have to reload the charts once or twice when tinkering with them. Additionally, the technical analysis tools are very scarce. You can set the basic indicators and moving averages, but that's about it.
You may be wondering why Yahoo got the number 2 spot on my ranking with so much complaining on my part. What makes the website shine is the delivery of reliable, wide-ranging, up-to-date quote charts and information. Yahoo Finance lets you set a number of indicators and moving averages for free. This is something you can't do with the other websites listed above, as the addition of this many indicators normally requires being a paid subscriber.
Yahoo Finance has its quirks but remains a staple in the industry for its reliability. This service allows me to use several moving averages and indicators in a straightforward manner for free. These capabilities are key to my trading methodology and can't be found anywhere else. For this reason, it deserves to be in this list of the best free stock charts websites.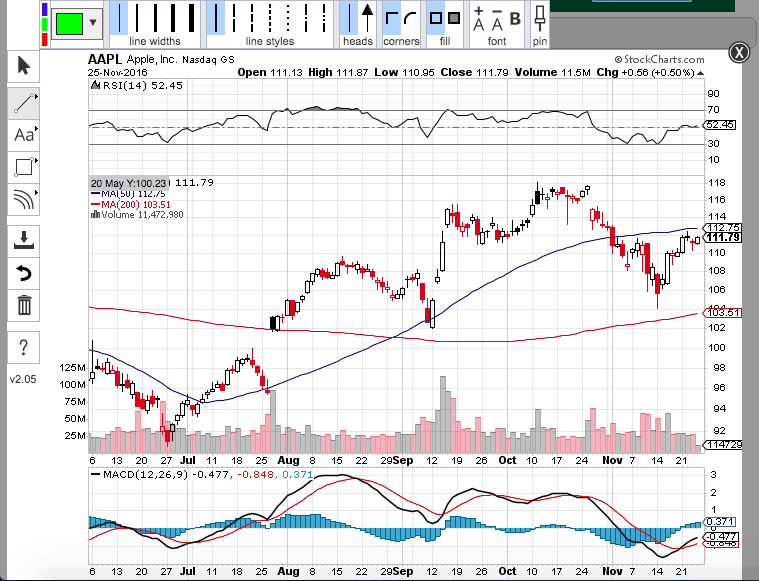 Finally, StockCharts takes the number one spot on my list of best free stock charts websites. Personally, I love this site and have now been using it daily for my trading needs. I think you will be pleasantly surprised if you haven't tried it yet ; it has truly become an industry leader.
Although the website may look very basic and is not very flashy, its simplicity may actually be one reason why people keep coming back. Besides its ease of use, this website is very reliable. I have never had an issue while charting, not even once. I'm surprised how the charts remain neat, even during heavy technical analysis. Moreover, there are all the indicators you could ask for at your disposal. You also get quite a bit of customization capacity, especially as far as the colours go, which is something you don't really see anywhere else come to think of it. One real downside of the platform is the inability to save charts, thus you have to start over every time. Furthermore, you are limited to only 6 indicators. However, it is worth mentioning that these cons can be bypassed by becoming a paid member of their service.
Although StockCharts may seem a bit stale at first, this site is the best there is. Although it may not be fancy, flashy, or very advanced, it is highly functional, effective, clear, and has all the indicators you might need. Look no further, this is the website you're looking for!
I hope you find this list of the best free stock charts websites helpful. Best of luck trading!