Best stablecoins and what are they exactly?
In a second, We will look at the best stablecoins but let us not forget the purpose of these special cryptocurrencies. A "stablecoin" is a digital property whose value is pegged to that of a tangible asset, such as the U.S. dollar, gold, or a basket of assets. The value of a stablecoin is designed to remain relatively stable, even in periods of market volatility. Stablecoins have been gaining popularity in recent years, as they offer the stability of traditional fiat currencies (such as the U.S. dollar) without needing a central authority. They are also used as the medium of exchange on decentralized exchanges (DEXs), which are cryptocurrency exchanges that do not rely on a third party to match buyers and sellers. The purpose of the best stablecoins is to provide a more stable alternative to traditional cryptocurrencies, which are often subject to volatile price swings. There are currently several different types of best stablecoins present in the market.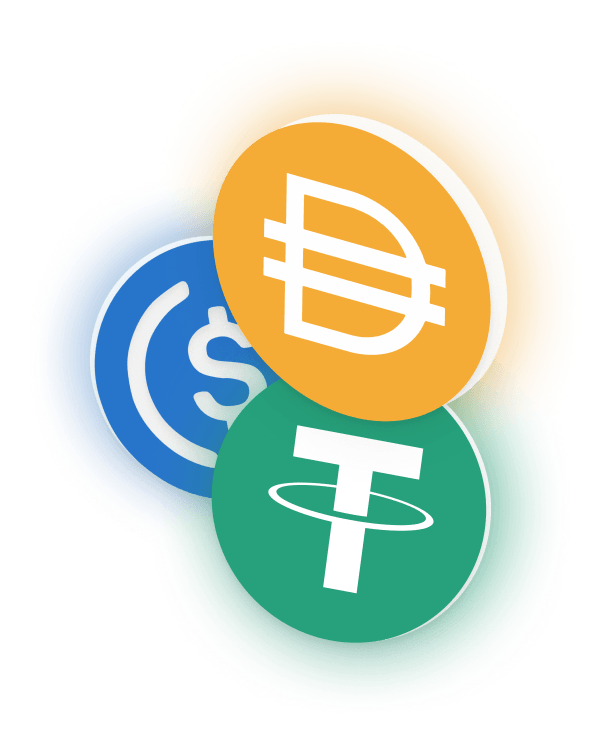 How to hold stablecoins?
The price of a stablecoin is less volatile than other cryptocurrencies, making them a more stable investment. There are a few different ways to hold stablecoins. The most common way is to keep them in a cryptocurrency wallet. However, there are also a few custodial services that offer storage for stablecoins.
Why hold stablecoins?
There are many aspects of why you want to hold stablecoins. Firstly, they can help you hedge against crypto market volatility. Secondly, they can be used to make purchases on exchanges that do not accept fiat currency. Finally, they can be a convenient way to store value. The price of a stablecoin is less volatile than other cryptocurrencies, making them a more stable investment.
What are the best stablecoins and which ones are safe?
Some of the most popular and best stablecoins are discussed below:
Tether
Tether is a digital token. It is designed to provide a safe and stable store of value for cryptocurrency investors. In fact, it is one of the best stablecoins in existence and also the oldest. Tether is still today best-known and most widely used stablecoin. Tether was created in 2014 by Brock Pierce, Reeve Collins, and Craig McLeod. The company behind Tether is called Tether Limited. Tether is headquartered in Hong Kong. Tether has been accused of being used to manipulate the cryptocurrency market. In January 2018, Tether announced that it had lost $850 million in U.S. dollars. The company has also been accused of not having enough cash reserves to back up all the tokens that have been issued. Despite these controversies, Tether remains the best-known and most widely used stablecoin. It is popular because it is a safe and stable store of value for cryptocurrency investors. Tether is the largest and most popular stablecoin, with a market capitalization of over $4 billion. USDT is available on several exchanges, including Binance, Kraken, and Huobi Global. USDT plays an essential role in the cryptocurrency ecosystem by providing liquidity and stability. In market volatility, USDT can be used to buy Bitcoin and other cryptocurrencies. This makes USDT a valuable tool for cryptocurrency traders.
USD coin
The U.S. dollar is the de facto currency in other countries, such as Ecuador, El Salvador, and Zimbabwe. The U.S. dollar is the world's most traded currency and the primary reserve currency. As of March 2021, the U.S. dollar was ranked as the first currency in the world in terms of benefits, exchange support, and liquidity. Many wallets support USD coins. This crypto is from coinbase and is one of the safest stablecoins out there.
True USD
TrueUSD is a very popular stablecoin. It is the first regulated stablecoin fully collateralized, legally protected, and backed by USDC, the leading dollar-backed stablecoin. TrueUSD is a trustless and decentralized platform with tokens that can be redeemed for U.S. Dollars. The coin is backed 1:1 by U.S. Dollar deposits and is minted on the TrustToken platform. TrueUSD is the first coin launched on the TrustToken platform and is currently ranked in the top 25 cryptocurrencies by market capitalization. TrueUSD has numerous advantages over other stablecoins. Firstly, it is fully collateralized, which means there is always USD in reserve to back every TUSD in circulation. Secondly, TrueUSD is legally protected, with a smart contract that ensures that the funds are held in escrow by third-party custodians. Lastly, TrueUSD is transparent, with regular audits to ensure that the funds are always correctly allocated.
Gemini Dollar
Gemini Dollar is ERC20-compliant and runs on the Ethereum blockchain. Gemini Dollar was created in response to the need for a trusted and regulated digital currency for global use. As a result, Gemini Dollar is the world's first regulated stablecoin. Gemini Dollar is pegged 1:1 to the U.S. dollar and is backed by actual U.S. dollars held in an FDIC-insured bank account. Gemini Dollar is also subject to the NYSDFS rules and regulations applicable to other fiduciary issuers of dollar-denominated stablecoins. This makes it one of the best stablecoins in crypto.