APMEX Review From The Beginning:
APMEX, which stands for American Precious Metals Exchange, is a top online retailer of precious metals that we all enjoy such as gold, silver, platinum and palladium. The firm, which was founded in 1999, is located in Oklahoma City and has rapidly grown to become one of the biggest and most popular precious metals dealers in the USA.
To begin our APMEX Review, it offers a wide range of metals, including coins, rounds, bars, and other forms of bullion. The company has a large selection of popular coins like the American Gold Eagle, American Silver Eagle, and the beloved Canadian Maple Leaf, as well as many options of rare and collectible coins. APMEX also sells gold and silver bars of various sizes and weights for those who really want to stack large amounts, as well as nifty platinum and palladium products. We will be also answering the question of is APMEX safe later in this article.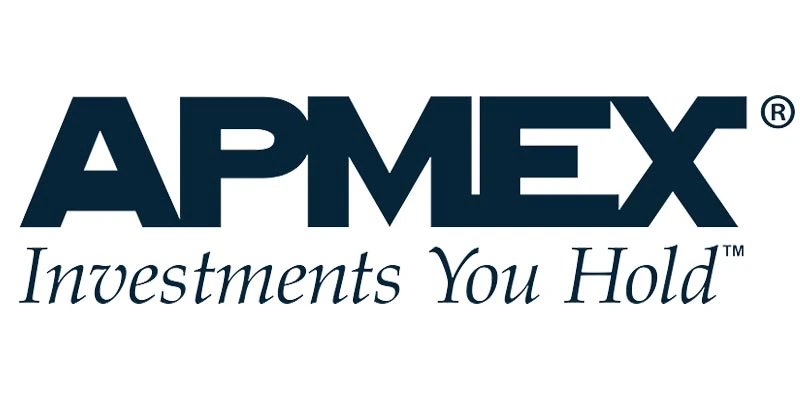 APMEX Pros:
One of the standout features of APMEX is its clean, sleek and user-friendly website. The site is well-organized and very easy to navigate, making it simple for customers to find the products they are looking for. This is one of my favorite things about this website actually. Moreover, for those wondering. I have used this platform myself to buy both gold and silver. Also, No, this APMEX review is not sponsored in any way.
The site also includes a bunch of information on the products offered, including detailed descriptions, pictures, and historical background on the coins and bullion. It even has historical price charts for the various metals. The site also includes many educational resources, including articles on precious metals investing and a glossary of terms to help newbies.
Another huge advantage of APMEX is its ultra competitive pricing. The company is known for offering some of the lowest prices on precious metals products, and it often offers sales and promotions that provide even deeper discounts. APMEX also has a price match guarantee options, ensuring that customers will always get the best deal available.
APMEX also has a great customer service, which I really appreciate in today's age. The company's customer service team is available seven days a week to answer questions and assist customers with their orders in a very efficient way. The team is knowledgeable and friendly, and they are happy to help customers with any issues or concerns they may have, something that isn't always common.
The company also has several of payment options, including credit card, bank wire, and check, as well as the great alternative to pay with Bitcoin, Ethereum and other cryptocurrencies, which is a unique feature among precious metal dealers.
One key thing I wanted to add that I like in this APMEX review also have a strong reputation for shipping, handling and insurance of the products ordered. They use discreet packaging and ship the products quickly, and they also offer base insurance on all orders. When I ordered, the package was very secured and inconspicuous.
Another great and interesting feature of APMEX is its storage program. The company offers a fully segregated, fully insured storage program for customers who want to store their precious metals with a trusted third party. Customers can choose from several different storage choices, including safe deposit boxes, off-site storage, and segregated storage. This allows customers to safely store their precious metals in a secure, insured location without having to worry about the risks associated with hiding them at home.
Many will be pleased to know with this APMEX review is that it also offers a variety of IRA options for customers looking to invest in precious metals through their retirement accounts. The company offers both traditional and Roth IRA options and can aid customers set up and fund their individual accounts. This allows users to take advantage of the many benefits of investing in precious metals while also saving for their retirement long term.
APMEX Cons:
One of the main only downsides that I noticed for this APMEX review is that the company does not have a brick-and-mortar location for customers to visit. This could be an issue for some customers who prefer to see and handle the products in person before making a purchase. Keep in mind, not being brick and mortar makes prices cheaper for the end-customer.
Indeed, APMEX also has a great track record of buying back the products they have sold, which is a great option for customers who want to liquidate their investments. The buyback process is simple and straightforward, and the company offers competitive prices for the products it buys back. Unfortunately, this was the only weak point for me. The buy-back prices they offered were quite weak compared to other options online but then again maybe I just got unlucky with the dealer I got. I would use them again for buying but not necessarily for selling.
APMEX's Age Old Reputation
It is important to know that APMEX also has a few options for customers looking to sell their precious metals. The company offers a coule different options for selling including: outright sales, consignment sales, and trades. This allows customers to select the option that best suits their needs and preferences.
APMEX also has a terrific reputation in the industry. The company is a member of several industry organizations, including the Industry Council for Tangible Assets (ICTA), the American Numismatic Association (ANA), and the Professional Coin Grading Service (PCGS). This shows that the company is devoted to following the industry's best practices and maintaining impressive high ethical standards.
APMEX Review Conclusion: Is APMEX safe?
Overall, I think APMEX is a great choice for anyone looking to invest in precious metals. Even more so for first times. The company offers a wide variety of products, super competitive pricing, and excellent customer service. The company's user-friendly website and wealth of free educational resources make it a great choice for those new to precious metals investing and trading. The storage and IRA options, as well as the long standing reputation of the company, make it a solid choice for more experienced investors as well.
The only two downsides is that the company does not have a physical location for customers to visit, but this is a minor drawback given the company's other strengths and the low buyback prices. To finish, if you are wondering is apmex safe? My answer is absolutely yes. At least from my experience.
I want to end this post buy saying their moto is pretty cool as well: Investments you hold. I hope this apmex review was helpful to you.