Introduction to Nesting Moonbirds:
Proof Collective's Moonbirds erupted into the NFT world in April 2022, smashing Ethereum's one-day secondary sales volume records. Moonbirds smashed the Mutant Ape Yacht Club single-day volume record of 41,000 Ethereum with 49,000 Ethereum volume in a single day after selling out at 2.5 Ethereum.
The NFT environment was completely thrown into Moonbird madness in a single day. Since then, the project has generated a total sales volume of 114,000 Ethereum ($335 million).
Proof Collective is behind the NFT initiative, and its founding team has extensive experience with Web2 tech firms. They have subsequently produced millions of dollars in income to support their Web3 goal. As their first move, they introduce unique staking dynamics, which is nesting moonbirds to reward their community.
The Moonbirds team is learning from and building on previous top-tier NFT initiatives to develop a close-knit, investment-focused community. Nesting moonbirds does indeed seem worth it!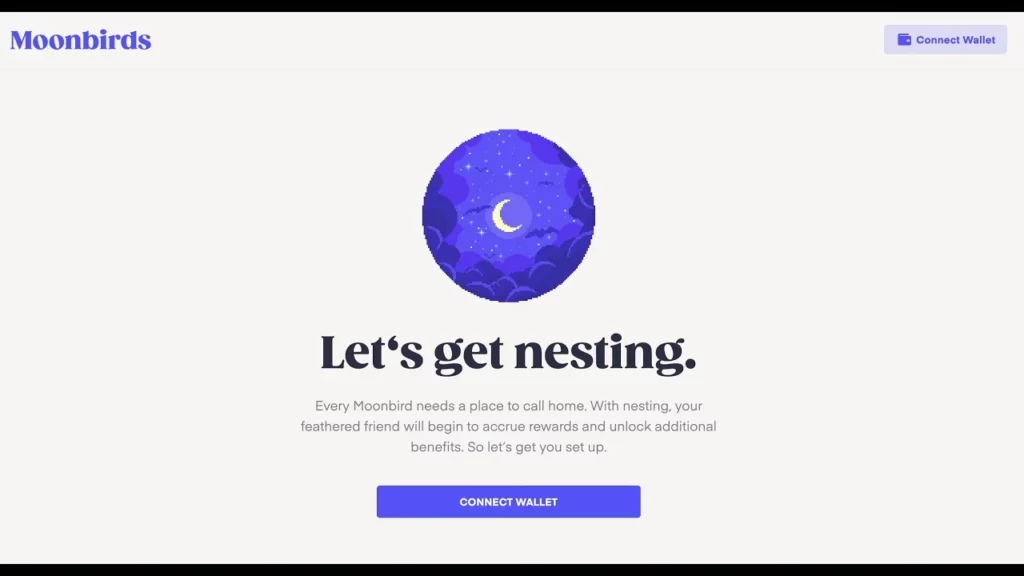 Founders and Team of The Proof Collective
Proof Collective began as a small, limited-edition NFT membership collection aimed at serious NFT collectors and investors. There are 1,000 NFTs available, and they will be auctioned out on December 11, 2021, at a Dutch auction price of about 1 Ethereum. The floor is presently 118 Ethereum, climbing despite the Moonbirds minting.
Several drops, notably GRAILS, the Collective's genesis drop, have been used to link artists with NFT collectors. Proof Collective pass holders were permitted to mint two Moonbirds for free.
The crew itself is maybe the most intriguing aspect of the Proof Collective. Among these co-founders are:
Justin Mezzell is an artist who has collaborated with companies such as Google, Disney, and Facebook.
Kevin Rose, Digg founder, and previous angel investor
Ryan Carson is the creator of Treehouse and Dropsend (leaving the Moonbirds team to create his NFT fund, 121g)
Ryan LeFevre is a well-known engineer.
The Proof Collective Moonbirds team is actively seeking a large number of additional workers to create and expand their product properly.
What exactly are Moonbirds?
Moonbirds is a 10,000 PFP NFT collection that serves as a second-tier Proof Collective membership. The allowlist for all public mints was randomized using premint.xyz and made available to all wallets containing 2.5 Ethereum. The mint eventually commenced operations on April 16, 2022.
There were 8,000 open mint spaces for the lottery, with 2,000 going to Proof Collective members (the 1,000 Proof NFT holders got 2 Moonbird spots each). According to the Proof team on the Bankless NFT podcast, 55,000 applications were filed to participate in the Moonbirds drawing, which is an overwhelming demand. However, many users are suspected of having gamed the system and submitted several wallets.
During the public mint – with the Moonbirds left after allowlist minting — there was a 10-second wait between the mint button and the contract being live, resulting in a lot of gas squandered by optimistic minters.
Even though some of these minters were undoubtedly bots, the Proof team finally chose to return the whole $380,000 in Ethereum gas fees.
The team also reinvested the stunning $60 million proceeds from primary sales into the project, demonstrating its commitment to reinvesting in the Moonbirds community. Nesting Moonbirds and these NFT holders have complete commercial rights to their NFT's IP, as do many other leading NFT ventures.
The most expensive on-chain sale of a Moonbird to date is 150 Ethereum on April 20, 2022, for a golden bird with Legendary Emperor feathers.
Moonbirds NFT Characteristics
Moonbird characteristics are purposeful and will be useful both in person and online. For example, it has been said that customers who own Moonbirds with hoodies would be issued high-quality hoodies when a particular period has passed. After a set period of nesting, all nesters will get stickers with their bird's image and number from Moonbirds.
To appropriately reflect and develop a diverse community, the Proof team worked with an advisory board when defining qualities.
Moonbirds NFTs are classified into eight separate trait categories:
Background
Beak
Body
Eyes
Eyewear
Feathers
Headwear
Outerwear
Cosmic, Glitch, Jade, and Enlightened are the rarest bodily qualities, each having only six in existence. Legendary Feather kinds are likewise extremely rare, with just 25 or so existing.
Nesting Moonbirds Explanation and Benefits
Nesting moonbirds is a "soft staking" method that allows you to lock up your Moonbird without removing it from your wallet. Nesting Moonbirds just went online on their website — nest.moonbirds.xyz — and over 8,000 Moonbirds are presently nesting. Holders of Moonbirds will be paid depending on how long they keep the NFT in nesting mode and do not list or sell it.
For example, holders of the Bored Ape Yacht Club could claim the same amount of $APE regardless of how long they had the NFT. Nesting Moonbirds incentives holders, on the other hand, will compound based on how long you keep it and do not list it. Some awards will require a certain amount of nesting time before they can be redeemed.
Nesting moonbirds includes tiers, which means there will be bronze, silver, and gold levels to reward long-term holders. Nesting Moonbirds will begin nesting in straw nests, then progress to bronze nests after 30 days.
If the Moonbird is advertised or sold, the nesting will be reset, and the new owner will start from scratch with a straw nest.
Conclusion
The Moonbirds team is still in its early stages, but it already has a strong community and a high base price to build momentum. The team has frequently discussed developing items for the NFT market, and it appears they are already going in that direction.
They are developing a number of novel products, including a method to establish ownership of an NFT without directly attaching your wallet. Their objective is to be a top five PFP project (they can cross that one off the list), and they want to support that by hosting one of the world's largest NFT conferences this year.
Nesting Moonbirds is yet another example of a secondary-tier membership NFT to a "blue chip" that appears to be on its way to becoming a blue chip in its own right.
As more individuals attempt to enter the NFT field, they will most certainly seek cheaper entry points, making some of these second-tier membership NFTs more appealing than ever. Only time will tell whether Moonbirds continue to soar to the moon.