Stocks aren't done dropping yet.
Tonight, futures are falling significantly by over -5%. This comes after a few volatile sessions. However, like I've said, the charts are pointing towards bigger loses ahead. Let's take a look at the $SPY ETF chart, which tracks the S&P 500. You can view the video version HERE:
$SPY etf chart: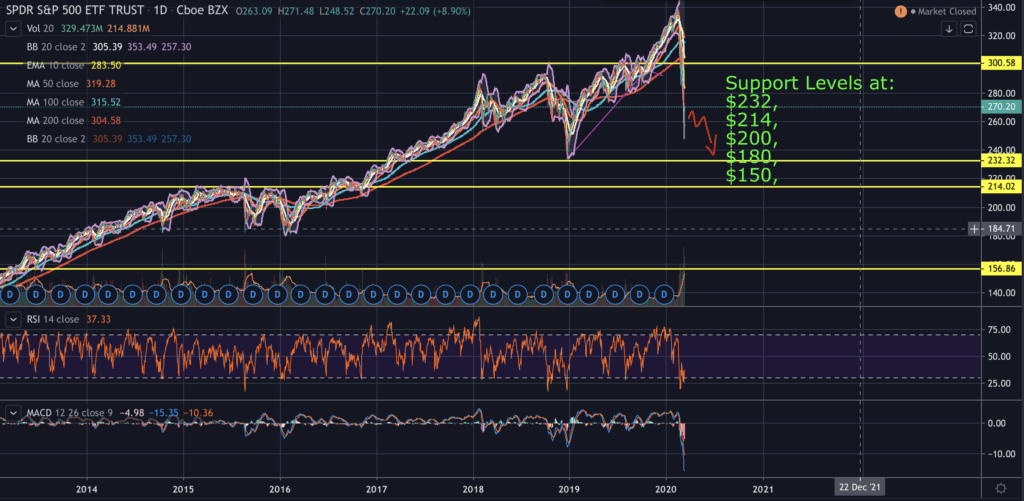 I should point out that we dropped over -20% in a short amount of time. So, some random bounces are possible here and there on the way down. With that being said, economic and social conditions are worsening and will likely put further pressure on the markets as losses should accelerate.
S&P 500 Support Levels (SPY ETF):
Now that you're aware of the fact that were oversold and can get some unexpected bounces here and there. I wanted to go over the support levels at play in the coming months. In the next year, it would be quite possible for the $SPY to fall down to $150. If we're a bit lucky maybe only down to $180. That might seem unreasonable, and it's definitely not guaranteed to go that low. Nonetheless, we haven't truly retested the $214 support level, which leaves a somewhat open gap that we need to fill. This would make it likely that we would end up falling down to $200 before getting a stronger support level bounce.
In conclusion:
As the chart shows, even though the market fell we could be looking at a move down to $200 on the $SPY etf as the loses accelerate with the growing socio-economic concerns. Depending on the situation then, it could be the opportunity of a lifetime to load up on cheap share prices but only time will tell at this point.
Follow Me On Social Media:
That completes my list of the best stocks to buy during a recession. Don't forget to Follow Me on Twitter and YouTube. You can also learn technical analysis trading with my course HERE.